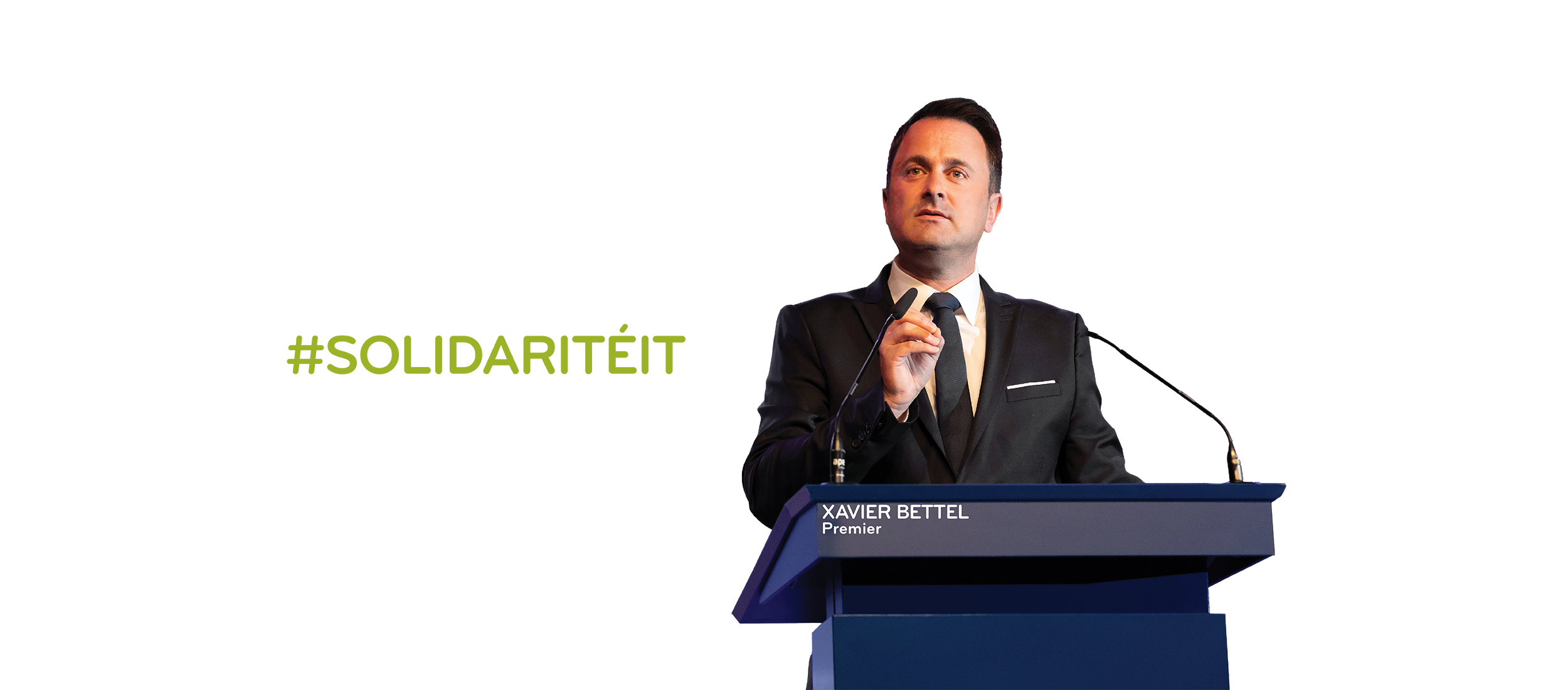 Strengthen
purchasing power
The war in Ukraine and our solidarity with the Ukrainian people have a price.
We too can feel the consequences of the conflict in Luxembourg.
High energy prices and high inflation are weighing on many people and businesses. The DP takes these worries seriously. As part of the 'Energy table', first measures have been implemented to cushion the increase in energy prices. This includes the introduction of a socially selective energy premium for those who need it the most.
Following Prime Minister Xavier Bettel's initiative, a tripartite meeting was convened to decide on other solutions in the interest of the country. The Government and the social partners have agreed on a historic series of measures of over 830 million euros. This shows that social dialogue is alive in Luxembourg.
The goal of this #solidaritypackage is to strengthen people's purchasing power, secure employment and give companies predictability.
This solidarity package, gives households a higher purchasing power than before the crisis. People with lower and middle income are compensated for a loss in purchasing power by means of a gradual social tax credit. Same as during the pandemic, the Government is not leaving anyone out in the cold during this crisis.
New "Energy" tax credit:
To compensate the loss of purchasing power of employees, pensioners and the self-employed, a new tax credit will be introduced.

+84€/month
Example: A person (2313,37€, minimum wage without qualification, tax class 1) has 41,76€ more in purchasing power per month than if the index were to fall in August.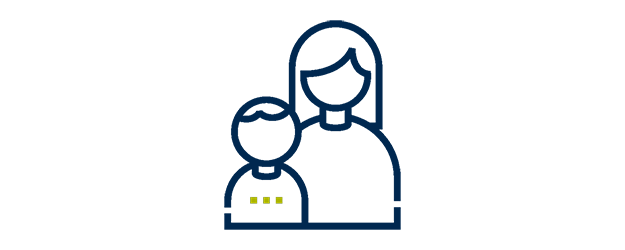 +81,87€/month
Example: A single-parent family (4200€ gross, tax class 1A) has de Mount 29,16€ more in purchasing power per month than if the index were to fall in August.
Measures of the solidarity package
Kloert Bekenntnis zum Index: D'Index-Tranche vun Abrëll ass normal erfall. D'Paien, d'Pensiounen an déi indexéiert Sozialleeschtunge sinn ëm 2,5% erhéicht ginn. Fir de Betriber Previsibilitéit a Sputt ze ginn, gëtt déi viraussiichtlech Index-Tranche vum August 2022 reportéiert, awer net annuléiert. Den Index- Mechanismus gëtt also net a Fro gestallt.
REVIS a RPGH: D'Beneficiarë profitéieren all Mount vum Equivalent vum sozial gestaffelte Steierkredit. Konkret heescht dat, datt déi Leit all Mount zousätzlech 84 Euro bäikréien.
Energieprimm: Aféierung vun enger Energieprimm fir Stéit, déi besonnesch vulnerabel sinn. Vun dëser Primm kënnen och Menage profitéieren, deenen hire Revenu 25% iwwert dem eligibele Montant vun der Allocation de vie chère (AVC) läit. De Montant läit tëscht 200 a 400 Euro, jee no Gréisst vum Stot.
Kannergeld: Och wann déi nächst Indextranche
verréckelt gëtt, gëtt d'Kannergeld awer indexéiert.
Studenteboursen: De Montant vun de Studiebäihëllefen ass gehéicht ginn.
Hausse vun der Subvention Loyer an Afréiere vun de Loyeren op Wunnengen.
Cibléiert Hëllefe fir Betriber mat héijen Energiekäschten.
Weider Hëllefe fir déi energetesch Sanéierung.
Reduktioun bei den Energiekäschten: De Staat iwwerhëlt beim Bensinn, Diesel a Mazout 7,5 Cent/ Liter. Mat geziilte Mesure ginn och d'Stroum-
a Gaspräiser stabiliséiert.
Why did the Prime Minister convene a Tripartite?
The consequences of the war in Ukraine are also being felt in Luxembourg. The general high level of prices, and in particular high energy prices, are affecting many households and businesses. Prime Minister Xavier Bettel convened a Tripartite to analyse the current situation together with the social partners – that is the unions and employers - and to find solutions to help citizens and businesses through the crisis.

The Tripartite is an instrument that has proven itself more than once in other crises. The Tripartite is therefore part of Luxembourg's success model.
The index is a mechanism that compensates for the loss of purchasing power. The index guarantees social peace here in Luxembourg.

Once the triggering threshold of 2.5% has been exceeded, meaning that the price of the 'basket of goods' has gone up by 2.5%, wages and indexed social benefits will automatically increase by the same percentage. This mechanism protects residents' purchasing power when inflation is at a high level.
Has the index been abolished?
No.

The indexation mechanism was triggered in April 2022 as planned.

Due to the high level of energy prices, Luxembourg risks facing a further indexation tranche in the third quarter of 2022. This would mean that salaries and pensions would increase three times within a period of 12 months. The reality is though that delivery shortages and high energy prices make it difficult for the economy - which is still weakened in the aftermath of the Covid pandemic - to bear these additional costs. Some companies would not be able to cope.

In order to give companies more leeway, the Tripartite agreed that only a single index tranche comes into effect this year. The next index tranche is not cancelled, but rather postponed, and compensatory measures will be introduced to make up for the postponement.
Will an index tranche be removed?
No!

If the next installment of the index falls before 1 April 2023, it will only be moved backwards and will not be paid out until April 2023. This guarantees that companies do not have to pay out 3 index tranches in a short period of time. However, the government has decided to compensate for the loss of purchasing power for the period between which the index would normally fall and April 2023. It has therefore introduced measures such as a tax credit linked to the financial situation of a household. In many cases, this instrument even overcompensates for the loss of purchasing power.
On what data did the government base its decision-making?
The government based its chosen measures on data from the National Institute of Statistics and Economic Studies in Luxembourg (STATEC). It is subordinate to the Ministry of the Economy but is scientifically independent and neutral.
Who will benefit from the measures that compensate for the loss of purchasing power?
Employees, pensioners and freelancers earning a maximum of €100,000 a year will receive a degressive tax credit of a maximum of €84 per month. The tax credit is tax-free and is paid out during the months in which the indexation is postponed.

Households with low and medium incomes will benefit from an overcompensation of their loss of purchasing power.

Students are equally impacted by the high energy prices. Their study grants will therefore be increased.

Beneficiaries of the REVIS will receive an equivalent tax credit of €84 per month to compensate for their loss of purchasing power.

Since 13 April, prices of diesel and petrol have dropped by 7.5 cents at the gas station.

Commercially or industrially used diesel will also become 7.5 cents cheaper. But in this case, Parliament still needs to vote in favour of the bill. The same goes for heating oil.

This measure is valid until the end of July, for the heating oil even until the end of the year.
Who benefits from the tax credit and how is it calculated?
If an index tranche has to be postponed, then the loss of purchasing power will be compensated by a tax credit that is linked to the income of a household. Employees, pensioners and contractors with an annual income of:
between €936 and €44,000, receive a tax credit of €84 a month.
between €44,001 and €68,000, receive a tax credit of at least €76 a month.
between €68,000 and €100,000 benefit from a tax credit that decreases degressively and is at 0 euros for an annual income of over €100,000.
When will beneficiaries receive these funds?
The measures shall enter into force as soon as the legal texts have been adopted by Parliament. We are currently working hard to get these legal texts ready for a vote.

The tax credit will be paid out from August onwards, where the indexation should normally have come into effect.
What measures were negotiated at the 'Energiedësch' roundtable?
Prior to the tripartite agreement, the government had already decided on financial aid measures after an 'Energiedësch' ('energy table') meeting. One key measure was the socially selective energy allowance for households entitled to the cost-of living benefit (Allocation de vie chère). This allowance varies from €200 to €400 depending on the size of the household. It is also important to mention that the cost-of living benefit has already been increased by at least €200 this year. Households whose income is 25% above the eligible amount of the cost-of living benefit can also receive the energy allowance.

In addition, it was decided that the network costs for households heating with gas would be set to €0. This will allow an average household to save up to €500.

As far as the price of electricity is concerned, the state decided to stabilise or even reduce the price by significantly increasing its contribution to the renewable cogeneration/compensation mechanism.

At the energy roundtable a total of €75 million were unblocked to relieve households.
Will the indexation of child benefits also be postponed?
No! Child allowance will continue to be indexed as per usual.
Is something going to be done in the context of rising housing prices?
The government imposed a temporary freeze on rent increases until 31 December. This means that the owner of a property may not increase the rent during that period.

In addition, the rent subsidy (Subvention de loyer) is being adapted so that more people can benefit from it. Subsidies will be increased and the maximum for families with many children will be adjusted upwards.

The PRIMe House instrument will also be adapted so that more people can benefit from it. For low-income households, the state takes over the bill for their renovations, so that the funds no longer need to be put forward in advance. In addition, a social top-up will be introduced for the PRIMe House financial aids, so that more people can benefit from them and the maximum of the premium will also be increased.
What is the budgetary impact of the Tripartite Agreement?
The solidarity package costs the state around €830 million. The goal is to compensate for the loss of purchasing power of the households and to support businesses. In addition, one needs to factor in state guarantees for bank loans totalling €500 million.
What support do businesses receive?
The Stability Package introduced the following financial aid:
State guarantee scheme: This will make it easier for companies with liquidity problems to obtain a bank loan. The state provides a guarantee of up to 90% of the loan value. €500 million are available for this assistance to businesses.
Aid scheme aimed at compensating for a part of the additional costs caused by rising electricity and gas prices: This aid is intended to help businesses that consume a lot of energy as part of their production process and whose costs have risen sharply as a result of rising energy prices.
Aid scheme aimed at compensating for a part of the additional costs caused by rising energy prices, fertilisers and intrants: This aid of up to €30,000 per company will help agricultural businesses, which are also severely affected by the crisis.
Assistance scheme aimed at compensating for the additional costs linked to the Emissions Trading System (ETS) for the period 2021-2030: This aid covers part of the costs incurred by companies applying the ETS system. In return, these companies have to make commitments to invest in the energy transition.
In addition, SMEs receive support to become more energy-efficient and climate-neutral. To this end, a climate pact for businesses and a new Fit4Sustainability assistance program will be created.
You have a question of the solidarity package?